I wrote few articles containing QR codes. Now it's time to explain to you how to scan those (how to download apps via QR codes).
First of all, you'll need an application (reader) for that. My favorite is Barcode Scanner, based on the open source ZXing Barcode Library. First, let's install it by searching Android Market for Barcode Scanner (from ZXing Team).
Now, we are ready to roll.

Barcode Scanner actually uses your phone camera. When you see QR code on the monitor, just scan it (it's very easy and precise – your hands don't need be steady as a rock). Barcode Scanner needs 2-3 seconds and you'll hear a beep which means he's done scanning the QR code.
Let's check more options:
Wait, there are more options!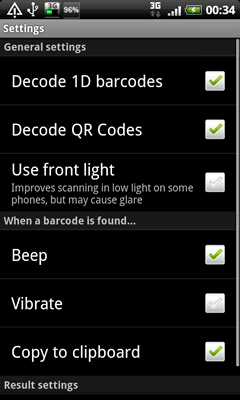 You can check/uncheck Decode 1D barcodes, Decode QR codes. Just leave it as it is. Then we have Use front light – can be helpful on some phones. Beep, Vibrate and Copy to clipboard – I think you got this.
That'd be all people. It's your turn. Check my reviews of AK Notepad, Relax and Sleep and Vuvuzela and scan those QR codes.
Feel free to leave a comment if something is not working right.