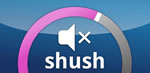 Today I'll write about one of the most useful Android applications, and yet the smallest – Shush! Ringer Restorer. This is a must for every Android phone, and in my opinion, it should come pre-installed on our devices.
How many times have you silenced your phone and later forgot to volume it up? For example – at the class, office, movies or maybe you wanted to have some sleep? Well, Shush! Ringer Restorer comes to the rescue! You set for how long time your phone should be muted and that is it! When the time is up – the ringer is automatically restored. Pretty neat. I use this application every single day.
You activate this application when you silence your ringer using your volume buttons. Once your ringer is off, it asks you how long to stay silent.
Let's check few screenshots:
Small, simple and very useful!
Permissions: None!
Android version: 2.0 and up
Size: 72kb
Price: Free
Download: Search Android Market for "Shush! Ringer Restorer" or scan QR code below: