Intro – HTC Desire Review
Hey people!
Welcome to my blog dedicated to the World's #1 phone at the moment – HTC Desire. Yes, I'm proud owner of this wonderful product and I thought it deserves a site on which you will find applications, read reviews, grab hot deals and more.
I'll be honest with you people. If I find something bad about this product – I'll write it here.
I bought HTC Desire three weeks ago. Sometimes I'm a clumsy person. So, I've dropped it four times already, two times it felt on the front side (screen). Everything is fine with the phone, so I must say HTC did a fine job when it comes to the quality of material used for Desire.
Desire is very thin. You can wear it in your pocket with no problems or you can get one of those cool cases if you want to.
Display is fantastic! You can put almost everything on that large screen. When I look at my homescreen I see time (of course), weather, shortcuts to my favorite apps and calendar (next 3-4 events). You have 7 screens at your disposal so you can make all kind of combinations. Here is mine (from left to the right):
First screen – Large weather widget. It shows current temperature and 5 days forecast. Example: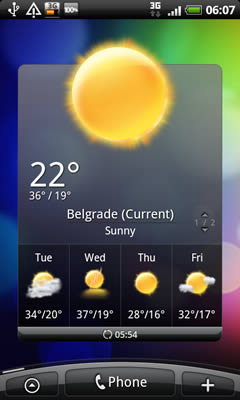 Second screen – I use it for SMS. All my mesages at one place, just one tapp away.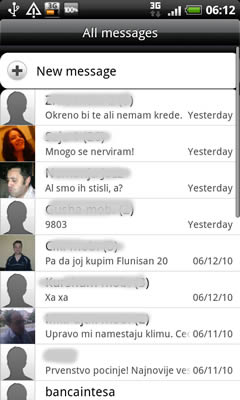 Third screen – E-Mails. Since I ran some biz it's important to me to send (and receive) mails quickly.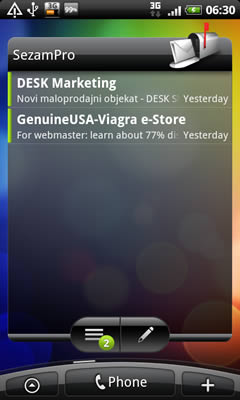 Fourth screen (or Homescreen) – I already wrote above.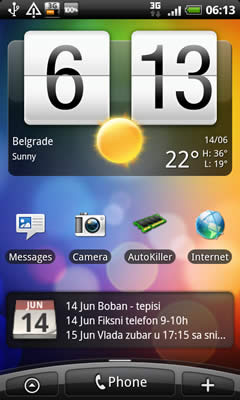 Fifth screen – Shortcuts to my favorite apps: AK Notepad (fantastic application for taking notes), Market (to check is there something worth downloading), Opera Mini and Dolphin Browser HD (what can I say – I'm a browser freak), Photos, Barcode Scanner, Alarm Clock Plus (I sleep like a bear so this is a must for me!), Settings (all Desire settings one tapp away), Maps (when I get lost… and yes, it happens sometimes), YouTube (no need to explain), Calculator and Wi-Fi Analyzer.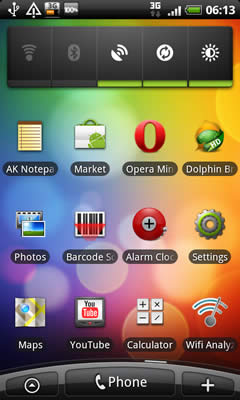 Sixth screen – A list of my favorite contacts. You can put 9 contacts and call them (or text them) with one tapp.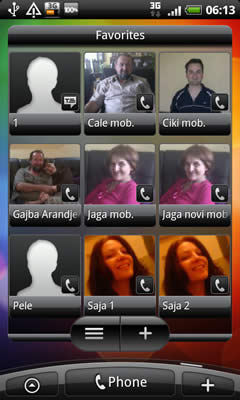 Seventh screen – My full agenda.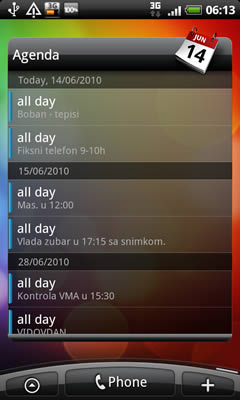 Every screen is fully customizable, you can add whatever you want – whenever you want. Let's see what happens when I press Home button twice: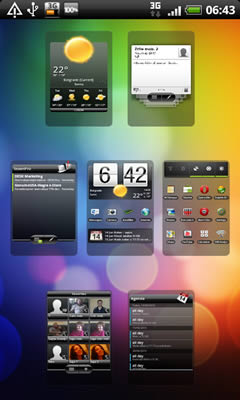 As you see – you can quickly access any screen you want (this is much faster than using touchscreen).
Check this video about HTC Desire widgets:
HTC Desire is a very fast phone. You can hit it with everything: Maps, GPS, Wi-Fi, Bluetooth, Music at the same time. You'll get no slow response. Sometimes I think it's faster than my notebook (which has problems running antivirus and firewall at the same time). Now I understand why HTC put that monster CPU inside Desire.
Let's say something about the battery. If you're one of heavy users (like I am) be prepared to charge battery once in two days. The good thing is that Desire needs two hours to be fully charged.
This was some kind of intro and review, written from my own experience. It's 6:45 AM and I'm very tired. I'll add more things in days to follow. Be sure to check HTC Desire Specs.