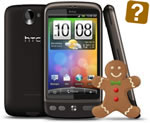 This post is for all of you asking yourself should you update your HTC Desire to Gingerbread (Android 2.3) I know, your Desire works fantastic on Froyo and there is no reason to change anything. Well, HTC released Gingerbread update months ago and I think it is time for us to check what is inside the last (official) update for Desire.
Let's start.
This is so called RUU update (Rom Upgrade Utility) which means that you'll have to apply it "by hand" (you know – download and install). But before that let's see
What do I get with Gingerbread?
First thing I've noticed is slightly better responsiveness… not much, but still it is improvement and average user will notice the difference.
Then, there is finally super-easy copy and paste function which will save you some time.
Also, battery life is longer, thanks to Android 2.3 which comes with better power management.
There is built-in task manager (Settings > Applications > Manage Applications) with detailed info about every app and process.
Fast Boot – yes!
There is more. Android 2.3 comes with more features. Some of them won't mean anything for you, some will:
Support for extra-large screen sizes and resolutions (WXGA and higher). That is 1280 x 768
Native support for SIP VoIP internet telephony (actually this is great as you can use apps such is Sipdroid and other VoIP apps)
Faster text input with better suggested text and improved accuracy
Support for Near Field Communication (NFC) – read more about it here
New audio effects: reverb, equalization, headphone virtualization, bass boost…
New download manager giving users easy access to any file downloaded from the browser, email or another application
Support for multiple cameras on the device, including a front-facing camera if present
Support for WebM/VP8 video playback and AAC audio encoding
Native support for more sensors (such as gyroscopes and barometers)
Not bad. Now to answer some (obvious) questions.
Will I get a better phone with Gingerbread update?
Yes, you will. Some of the features I've mentioned above really improved my Desire's functionality.
Can I live without it?
Yes, you can. HTC Desire works great on Android 2.2 (Froyo) and there is no reason for you to update if you really don't need new feature(s).
Is there something else I should know?
Yes. This update will (temporarily) remove Facebook and Flashlight apps. You can easily install them after the update. Also, you'll need to make a backup of your phone since Gingerbread update will wipe the internal memory. SD card data is safe.
Here is a fantastic speed test video (HTC Desire 2.2 vs 2.3) Thanks to Buldfot
It's your call. If you have any questions feel free to comment below or contact me here.