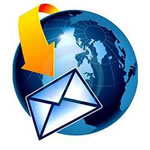 When I spoke with my boss about phone that I got, he couldn't help himself and made one funny remark… Why did you buy it when HTC can not handle corporative email account? You should acquire Blackberry instead! At the time I thought "Oouh! What a geek! What could go wrong – just use the existing account settings from MS Outlook and it will be enough!" I was wrong…
I knew that my company is using VPN client as a tunneling when one wants to establish corporate link, but I thought that it was only meant for laptop connections. Existing webmail was not flexible enough and it only performed well on MS Internet Explorer on computer.
There is no need to say that I was disappointed when I did not manage to establish connection after numerous tries and errors.
But the solution came from the same person (The Boss) when he lost his BlackBerry and had to use HTC (Desire) as a company phone.
Step-by-step tutorial
Let's suppose that one work in a company: www.company.com
1. To login in Windows it should be entered:
username: domain\username (domain without www and extension!)
password: pass
where domain, username and pass denote corresponding company domain name, your personal username and password.
2. For e-mail we will use HTC Mail application. Let's create new account (Mail > More > Accounts list > New account > Exchange ActiveSync)
3. Enter requested parameters:
4. Security policies activation
Important! Each time when phone goes standby (locked) you will have to enter security PIN consisting of digits.
5. The best thing is that phone will connect itself on company address book; you could search it as you are directly hooked on company network!
My suggestion is to define signature via Mail > More > Settings > General settings > Signature.
A few remarks:
Messages older than 7 days will not be displayed
The message preview is in text mode with hyperlinks
You could enter in every folder that is defined inside of your existing e-mail account on corporate mail server (Sent items, drafts, etc.)
Feel free to ask if you have any questions.