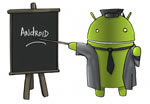 Time to answer some questions about weak signal, internal storage problems, Facebook removal and some other problems you've asked me about. As always – I suggest you all check my whole tips and tricks section – you'll find some really good stuff there.
Now, to the Q&A!
Q from Greg: Hi, I love this phone, but I have problems installing apps because my Internal Phone Storage is always running low (right now it's 10.25 MB).. it seems that unless I am above 15 MB I can't install anything, is there a way to fix this so I can get more room for installing apps?  I move any app to my my SD Card if I can, some won't let me, it says I have 5.5 GB left on my SD Card… which is tons of space in my mind, thanks!
A: Hey Greg! Since Froyo (Android 2.2) there is an option to move applications to SD card (from internal memory). But, even with this option enabled, an application will still use a part of your phone's internal memory. It does not matter how much space you have on your SD card if you're running low on internal memory. You can:
1) Try to move more apps to SD card (via Settings > Applications > Manage applications)
2) Uninstall some unnecessary apps
3) Install some custom ROM which has true Apps2SD option (for this you'll need a rooted phone!)
Q: Alex wants to know how he can remove Facebook and Facebook for HTC completely from his phone.
A: For some reason, Facebook is one of system apps, which means it can't be (easily) uninstalled like other apps via Settings > Manage applications. You'll need a root access to your phone and then you'll need to install Titanium Backup which can uninstall system applications.
Q: Kaz would like to know how to disconnect his HTC Desire C from Internet?
A: Settings > Wireless & networks > Mobile network (uncheck this). Also, in Mobile network settings uncheck Enable always-on mobile data.
Q: Heena says that HTC Desire is unable to phone due to no signal being received for days.
A: It seems that antenna is broken. Just in case, check signal of other networks in your area (insert some other SIM card). If problem stays – take it for repair.
Q: Aijaz is having problems with Desire S. He is unable to unlock because he forgot username and password for his Gmail account.
A: You'll need to check Google Account Recovery to get your login back. Visit Gmail and click on "Can't access your account?"
Q: Ariel wants to know what does "touch and hold delay" mean?
A: It is one of Accessibility settings (Settings > Accessibility). You can adjust delay required for the phone to notice that you're touching and holding an item on the screen (more info here).
Q: Hammad's HTC Desire has a weak signal – when he is out of home signal is good, but as soon he is back signal disappears.
A: Hey Hamad! Check the reception in your home using some other phone. If you experience weak signal with other phone, then it is network providers fault. If not – you may need to boost your antenna signal or replace antenna entirely.
Q: Denise gets a message that memory card is full, when it isn't. She can't install anything.
A: Are you running low on internal memory? Check Settings > Storage > Internal storage. If you're running low (below 20MB) uninstall some unused apps.