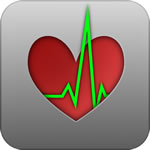 It's been a while since I reviewed some health application. After First Aid it is time to write about application which will turn your smartphone into a real heart rate monitor. Instant Heart Rate comes from Azumio Inc. and let's see how does it work, is it accurate, how is that even possible, etc.
Instant Heart Rate uses your phone camera to track color changes on the fingertip that are directly linked to your pulse. When I saw this application on the Market I was a bit skeptical. But, it seems that our phones really became smartphones. So, how does it work?
Start the application (note that camera flash will turn on if present)
Put the tip of your left point finger on camera lens
Hold steady for about 10-15 seconds (you'll see a timer)
Real-time chart will show your heartbeats
Your heart rate is shown
It is that simple. Now, I've compared several results with my Omron heart rate monitor and came to a conclusion that Instant Heart Rate is very accurate.
Here are screenshots:
Instant Heart Rate comes with the info about Heart rate (HR) zones which are calculated from Karvonen Formula (Warm Up, Fat Burn, Cardio, Extreme and Max). Timeline feature (free Azumio account needed) allows you to quickly store and view your measurements.
Important! This, or any other Android health application is built for information purposes only! It isn't meant to be used in medical treatments!
The beauty of it is that you got yourself (pretty accurate) heart rate monitor for free. You can check your rate during work, after workout, etc.
Permissions
Take pictures and videos
Full Internet access
Read phone state and identity
Requires
Android 2.1 and up
Download
Scan the QR code below or search Android Market for Instant Heart Rate