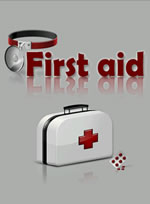 Another Android application which is a must for every phone! This is the first app I've installed on my HTC desire. It's called First Aid and it comes from Health Team (of course). It's like having a doctor with you all the time. Wounds and bleeding, head injures, poisoning, life saving procedures, effects of heat and cold… everything is covered in this app.
Let's see a doctor.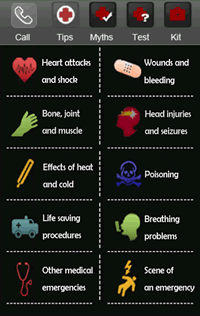 On the right you can see First Aid main screen (click on it for full-size picture). You'll see following categories:
Heart attacks and shocks
Bone, joint and muscle
Effects of heat and cold
Life saving procedures
Other medical emergences
Wounds and bleeding
Head injuries and seizures
Poisoning
Breathing problems
Scene of an emergency
As you see – they've covered everything. On the top of the main screen you'll find: Call (emergency number), Tips, Myths, Test and Kit.
Let's see what happens when I tapp Effects of heat and cold: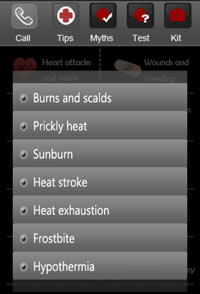 I've got all kinds of effects: Burns and scalds, Prickly heat, Sunburn, Heat stroke, Heat exhaustion, Frostbite and Hypothermia. Whenever you want to access this menu (this goes for every category) just press the Tips button on the top of your screen.
Now I'm gonna tapp the Sunburn ("In the summer time when the weather is high…) to show what you can to if you spent too much time at the beach.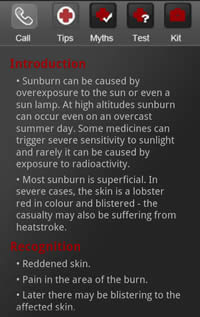 I see an Introduction (how it's caused etc), Recognition, Treatment and Aims.
If you have reddened skin or pain in the area of the burn congratulations – you've got the sunburn. First Aid recommends this treatments:
If it is a minor sunburn cover the casualty's skin with light clothing or a towel.
Move them into the shade or preferably indoors.
Cool the skin by sponging it with cool water or by soaking the affected area in a cold bath or a cool shower for ten minutes.
Encourage the casualty to have frequent sips of cold water.
If the burns are mild – calomine lotion or an afterspun preparation may soothe them.
For severe sunburn obtain medicial aid!
Aims – when dealing somebody with sunburn, the aim is to move the casualty out of the sun or away from the source of the sunburn and to relieve any discomfort and pain.
So much info and I've covered sunburn only!
My favorite Android First Aid option is Myths. For example:
The best thing to put on a burn is butter.
Treat a nosebleed by tilting the head back and pinching the nose.
Remove an object embedded in a wound as soon as possible.
If you give the kiss of life, you should see immediate results.
If you can't move a limb, it must be broken
And so on.
Every myth comes with the fact. Example:
Myth: The best way to treat bleeding is to put the wound under a tap.
Fact: If you put a bleeding wound under a tap, you wash away the body's clotting agents and make it bleed more, instead push on the wound.
We came to Tests. This is where you actually test your first aid knowledge. There are a lot of tests – Asthma activity, Bleeding activity, Broken bones child activity, Drowning activity… to name a few.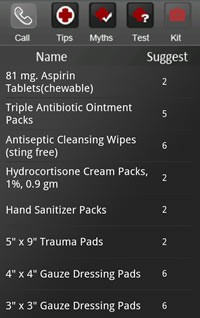 Kit is the next option. It's a list of necessary drugs and medical equipment, from Aspirin tablets to emergency blanket… everything you'll need to give first aid.
There is more, much more inside Android First Aid. I haven't covered Life saving procedures, Scene of an emergency, Other medical emergencies… I leave that to you.
I'd like to thank the Health Team for making this application free (and ad-free).
To download First Aid search market for First Aid (Health Team) or scan QR code below: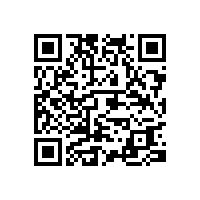 Don't forget to share this article with your friends and family. Every Android phone should have this app installed!