I've just heard about fantastic new (free) application – Relax and Sleep. Mizu Software Solutions made an application which is a must for every Android phone. Feeling tense? Having trouble sleeping? (I know I do). But, I've find a little helper!
Relax and Sleep is a free Android application which comes with 21 beautiful music themes for your pleasure:
Sound of the Ocean
Sound of a Soft Beach
Sound of a Little Creek
Sound of Heavy Rain
Sound of Summer Rain
Sound of a Shishiodoshi
Sound of Brown Noise
Sound of Windchimes
Sound of a Thunderstorm
Sound of Forest Birds
Song of a Whale
Sound of Crickets
Sound of Train Travel
Sound of a Campfire
Drum melody
Monotone Bass melody
Relaxation melody
Athmospheric melody
Chinese Violin melody
Acoustic Guitar melody
Dream melody
An impressive list! The best part is – you can mix them however you want. I've find my perfect combination: Sound of the Ocean (higher volume) plus Sound of a Little Creek (lower volume). As I said – you can mix whatever you want, whenever you want while you're searching for your perfect recipe.
Let's see how does Relax and Sleep look like:
Main menu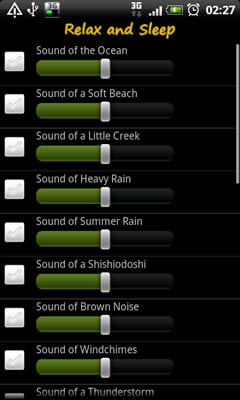 As you can see – list of all sounds with volume controls. Very easy to use!
Options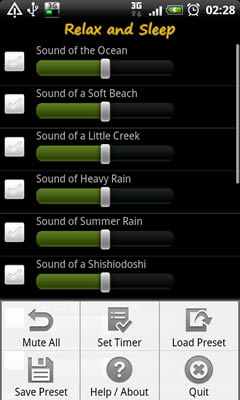 There are: Mute All, Set Timer (my favorite!), Load Preset, Save Preset (when you find your "tune"), Help/About and, of course – Quit.
Timer Settings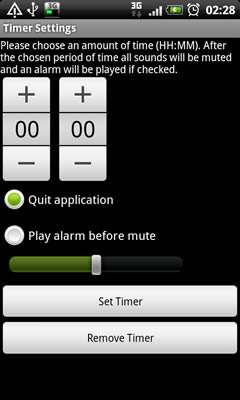 Timer allows you to set an ammount of time (HH:MM format) after which all sounds will be muted.
Almost forgot – download link. You can search Android Market for it or you can scan QR code below:

Now, please do excuse me – it's relax time! Gotta hear the ocean.