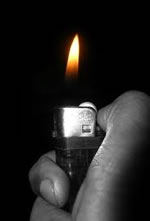 Enough with the tech stuff. Let's write about something fun. Progimax is the developer of few "different" applications such as: Stadium Horn, Shotgun, Tazer, Candle and Lighter. As you probably guessed by now – I'll write about Lighter.
I quit smoking more than a year ago. One of the best things I've done in my whole life. But I still remember that Zippo sound (you know that cool "click") I've used to make 100s time per day with my lighter.
You can engrave what you want on your new lighter, choose smoke and flame color, and much more. This is the fire you can play with. Lighter is a free application (ads are there, but not very agressive). There is ad-free version which costs $1.33 at the moment.
To download this application search Market for Lighter free or scan the QR code below: