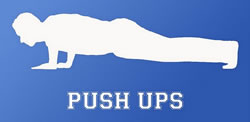 Time for exercise, people! Come on… let's move it! People from Rittr Labs brought us Push Up – another fine (and free) application which will help us improve our strength and stamina. "Getting you to doing 50, 75, 100 or even 125 push ups in a row! Who? Me? Yes… you!" Read how you can achieve that!
Before I start with the review I must say this is one of my favorite apps installed on my Desire. It's free, it's small and it really works. First thing you need to do is to set your goal. When you start the application for the first time you'll be asked how many push ups do you ultimately want to be able to do in a row (50, 75, 100 or 125). I've started with 50 (hey, I have 200 pounds!) Here are some screenshots:
Ok… now we've got ourselves our personal workout programs. Let's take short rest before next step. Here it comes!
Remember to rest one day before next workout. There is no hurry.
Push Ups is one of the highest-rated applications on Android Market. It's downloaded few million times and its average rating is 4.7! Do yourself (and your body) a favor and try this fantastic application. Free version will not remind you about your training sessions. Just do it every other day and you'll be fine. If you want more options – check Push Ups Pro!
To install this application search Market for Push Ups or scan the QR code below: