Today I'll write about the application which saves me money by constantly keeping eye on my Internet data usage (3G, Edge, GPRS). This nifty app comes from Richard Gruet whom I'd like to say thanks for making this application!
Let's start with the review.
This is the welcome screen: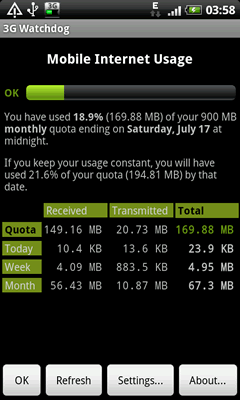 As you see – it shows (in % and MB) how much I've spent of my monthly quota. If I keep my current usage constant I will use only 21.6% of my quota, so I'll be fine (I believe no one likes to pay those monthly overages).
Also, on this screen you see how much data is received (downloaded) and transmitted (uploaded) and, of course – total usage. Then we have a quick look on daily, weekly and monthly usage. More than enough data for the welcome screen!
Let's see what happens when I press Settings button:
As you see from the pictures above – 3G Watchdog is fully customizable.
There is more, much more!
3G Watchdog is a wonderful application and it is a must for every Android phone! It accurately monitors your data usage (3G, GPRS, Edge) and warns you when you're near your quota.
To download 3G Watchdog search Market for it or scan QR code below: