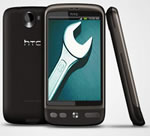 I was pleasantly surprised today when my HTC Desire popped up the message saying there is an update available. Since I didn't update my phone to Gingerbread (2.3) which was released months ago, I was anxious to see what's new in this update. Btw, make sure that you have Scheduled check turned on (Settings > About phone > System software updates).
The update contains "System Enhacement 6.02″ and its size is 6.34 MB. It brings "new features and improved performance and it won't delete any of your content". Well, more info from HTC wouldn't hurt anyone. You'll need to have at least 25 MB of free internal memory in order to install this update (before downloading the update check your free space via Settings > SD & phone storage!) The update will bring you Android 2.2.2 and software version 2.29.405.14. I haven't noticed "new features" so far, but I'm waiting for HTC's reply about this update.
Calendar bug? Here is a fix.
If you experience calendar bug after the update here is simple fix. Just add some new appointment and delete it. The phone will resychronize all of missing appointments!
UPDATE! I've just got official reply from HTC. This update has improved Facebook and Flash player functionality and it removed minor bugs that were affecting phone functionality. Also SMS bugs that were reported by users are solved with this OTA.