I'm gonna review a very interesting application called Phonalyzr. Do you even know who you're calling the most? Who texts you the most? How many calls you make per day? I thought I had an idea… before I've installed this app. You'll be surprised with some numbers, as I am.
Let's see what we can do with this application.
First of all, Phonalyzr is free. There are some non-intrusive ads. Author says it's the only way to support further development of this application, because developers from Canada cannot currently sell apps on the Market. He promises a paid version without ads and with few extra features very soon.
Phonalyzr has 2 main sections: Phone Calls and SMS.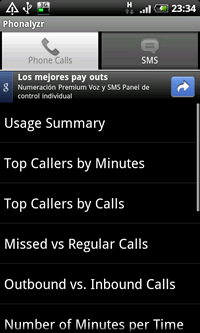 The default section at the welcome screen is Phone Calls. Here you can see following data:
Usage summary
Top callers by minutes
Top callers by calls
Missed vs. regular calls
Outbound vs. inbound calls
Number of minutes per time
Number of calls per time
Number of minutes per day
Number of calls per day
Number of minutes per hour
Number of calls per hour
Call length distribution
Let's check Usage summary: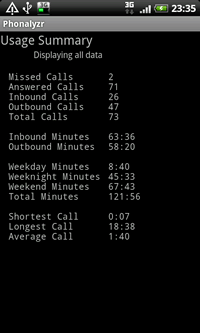 I see that I have 2 missed calls. I had answered 71 calls, of which 26 inbound and 47 outbound calls. Duration of my shortest call is 7 seconds. My longest call was 18 minutes and 38 seconds long and my average call is 1 minute and 48 seconds long.
With these numbers you can check how much you've spent of your monthly plan.
Let's see more Phonalyzr screenshots:
You can get much more info from this application. I just wanted to give you an idea what Phonalyzr is all about. Now, let's check SMS usage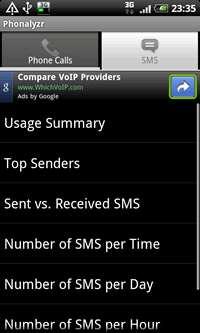 :
Usage summary
Top senders
Sent vs. received SMS
Number of SMS per time
Number of SMS per day
Number of SMS per hour
SMS length distribution
I'm not a much of a texter either (90% if my HTC Desire usage is spent online) but for you – texters (and I know there are a lot of you sending tens of messages daily) this is very handy.
Finally – let's see what happens when we press Menu button on our phone:
About Phonalyzr – speaks for itself.
Set billing date – according to your monthly plan. For example, my billing date is 18. day of the month.
Export data – yes, you can export data to your SD card!
Night starts – set weeknight/weekend start time
Night ends – set weeknight/weekend end time
Billing type – per second or per-minute billing
All in all – Phonalyzr gives a lot of info about your phone usage and your habbits. I was surprised myself when I saw some of the numbers.
To download Phonalyzr search market for it. The author is Martin Drashkov. You can also scan QR code below: